THE COFFIN CORNER - VOLUME 45 - 2023

These documents are in Portable Document Format (PDF). You will need Adobe Acrobat Reader, or a similar PDF viewing application to access these files.
These issues are only available in the Members Only section.
Number 1: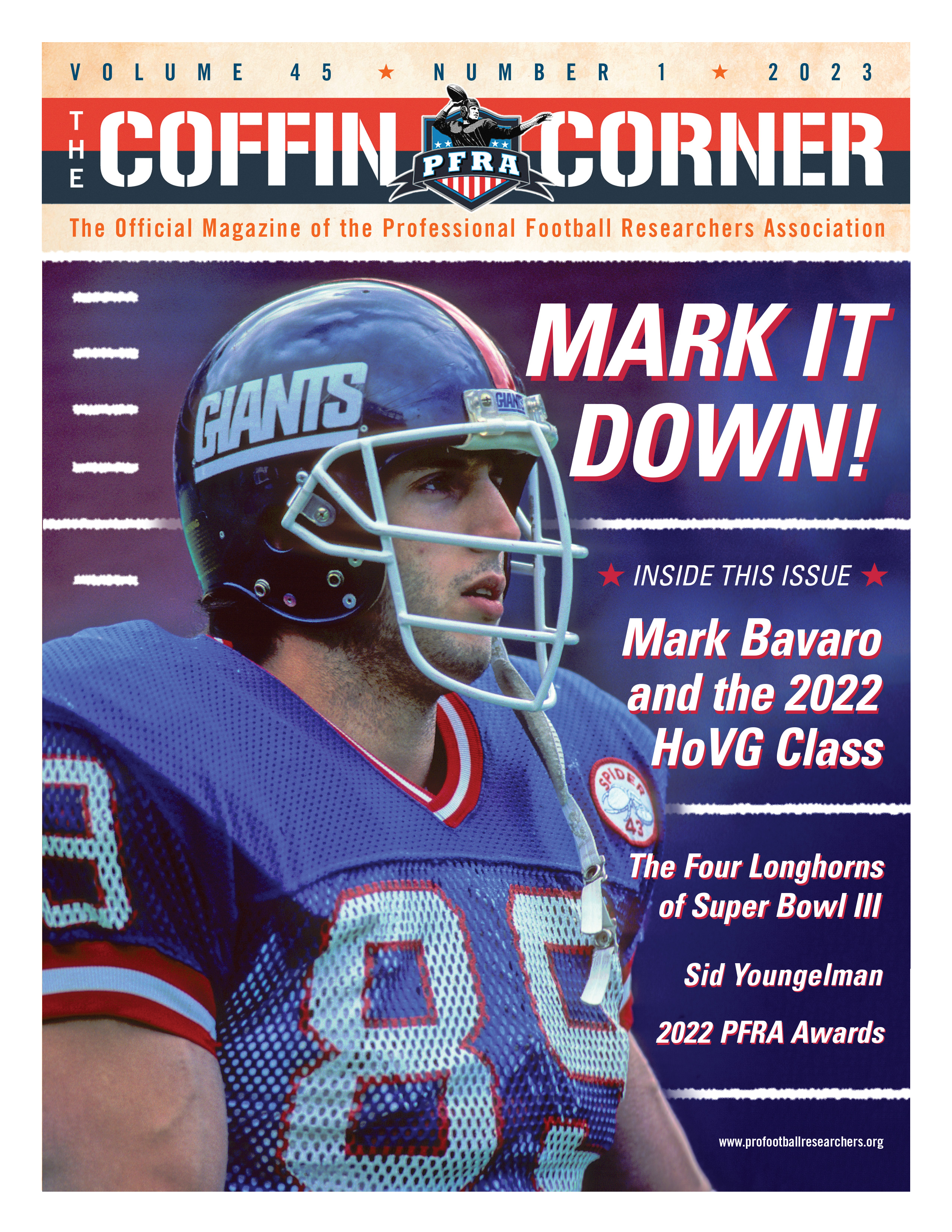 PFRA-ternizing Executive Director Lee Elder presents the annual "State of the PFRA" report to members and discusses the increase in both membership and social media followers; the sales figures for the line of PFRA books, which total four titles in print now; and the promotion of Greg Tranter to managing editor of the Coffin Corner. There is also additional information on the co-head coaches of the Pittsburgh Passion added as speakers to the 2023 PFRA Convention in Pittsburgh.
The Hall of Very Good Class of 2022 by Matt Keddie, Andy Piascik, Jay Thomas, and John Turney. Career highlights of last year's class are included for Mark Bavaro, Matt Blair, Mark Gastineau, Keith Jackson, Bert Jones, Bucko Kilroy, Clay Matthews Jr., and Lionel Taylor.
2022 PFRA Awards The official announcement of the Ralph Hay Award for lifetime achievement in pro football research and historiography, the Nelson Ross Award for recent achievement in pro football history, the Bob Carroll Memorial Writing Award for the best Coffin Corner article, and the Jack Clary Award for service to the organization.
Four Longhorns Help Upstart Jets Win Super Bowl III by Patrick Gallivan. The 1965 Orange Bowl was the first college football game to be televised live in prime time and pitted top-ranked Alabama, led by quarterback Joe Namath, against the University of Texas. Four key members of that Longhorn squad would later team up with Broadway Joe and the AFL Jets to take on the mighty Baltimore Colts of the NFL on that very same field in Super Bowl III. This is the story of those Texas players and their part in an upset for the ages.
The PFRA Biography Project: Sid Youngelman by Budd Bailey. An account of a Russian-Jewish immigrant's son who received a scholarship offer to play basketball at Alabama in 1950, but an incident during his freshman year changed the trajectory of his life—he switched sports to football, and that led him to a nine-year career in the NFL.