THE COFFIN CORNER - VOLUME 44 - 2022

These documents are in Portable Document Format (PDF). You will need Adobe Acrobat Reader, or a similar PDF viewing application to access these files.
These issues are only available in the Members Only section.
Number 1: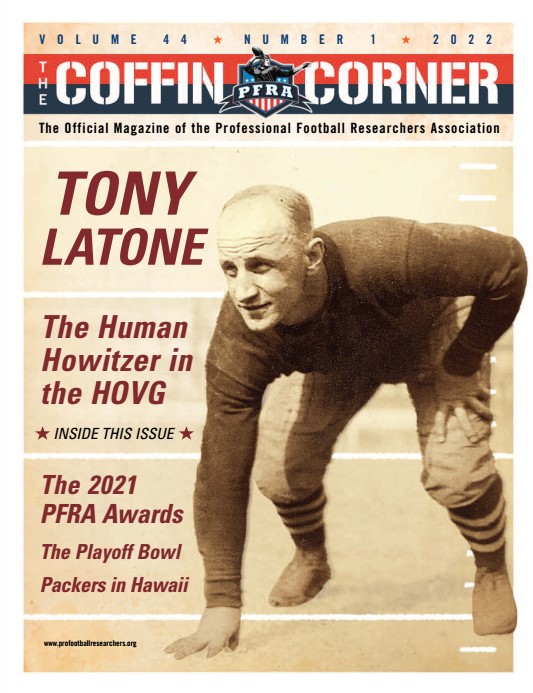 PFRA-ternizing Executive Director Lee Elder presents the annual "State of the PFRA" report to members and discusses the increase in membership; the issues faced by the organization as the pandemic continued; the upcoming 2022 budget; the PFRA bylaws vote; the new "Great Teams" book; an updated Coffin Corner schedule for the year; a listing of the various committees and chairs, and the announcement of the host city for next year's convention.
The Hall of Very Good Class of 2021 by Matt Keddie, Andy Piascik, Matt Reaser, Jay Thomas, John Turney and John Wilke. Career highlights of last year's class are included for Grady Alderman, Russ Francis, Mike Kenn, Tony Latone, Stanley Morgan, John Niland, Clark Shaughnessy, Bill Stanfill, Bob Vogel, and Abe Woodson.
2021 PFRA Awards The official announcement of the Ralph Hay Award for lifetime achievement in pro football research and historiography, the Nelson Ross Award for recent achievement in pro football history, the Bob Carroll Memorial Writing Award for the best Coffin Corner article, and the Jack Clary Award for service to the organization.
The NFL Playoff Bowl: A Bittersweet Trip in the 1960s by Don Shipley. A short history of the postseason matchup every year between second place teams for third place in the NFL—famously called "hinky-dinky" by Vince Lombardi—complete with summaries for each game ending with the merger with the AFL in 1970.
The Packers in Hawaii by Herb Gould. The story of Green Bay's barnstorming trip to the sunny and warm Pacific isles and West Coast in the winter of 1932–33, organized by Johnny "Blood" McNally after the team was denied a chance at a fourth straight NFL championship.