THE COFFIN CORNER - VOLUME 33 - 2011

These documents are in Portable Document Format (PDF). You will need Adobe Acrobat Reader, or a similar PDF viewing application to access these files.
Theses issue are only available in the Members Only section.
Number 1: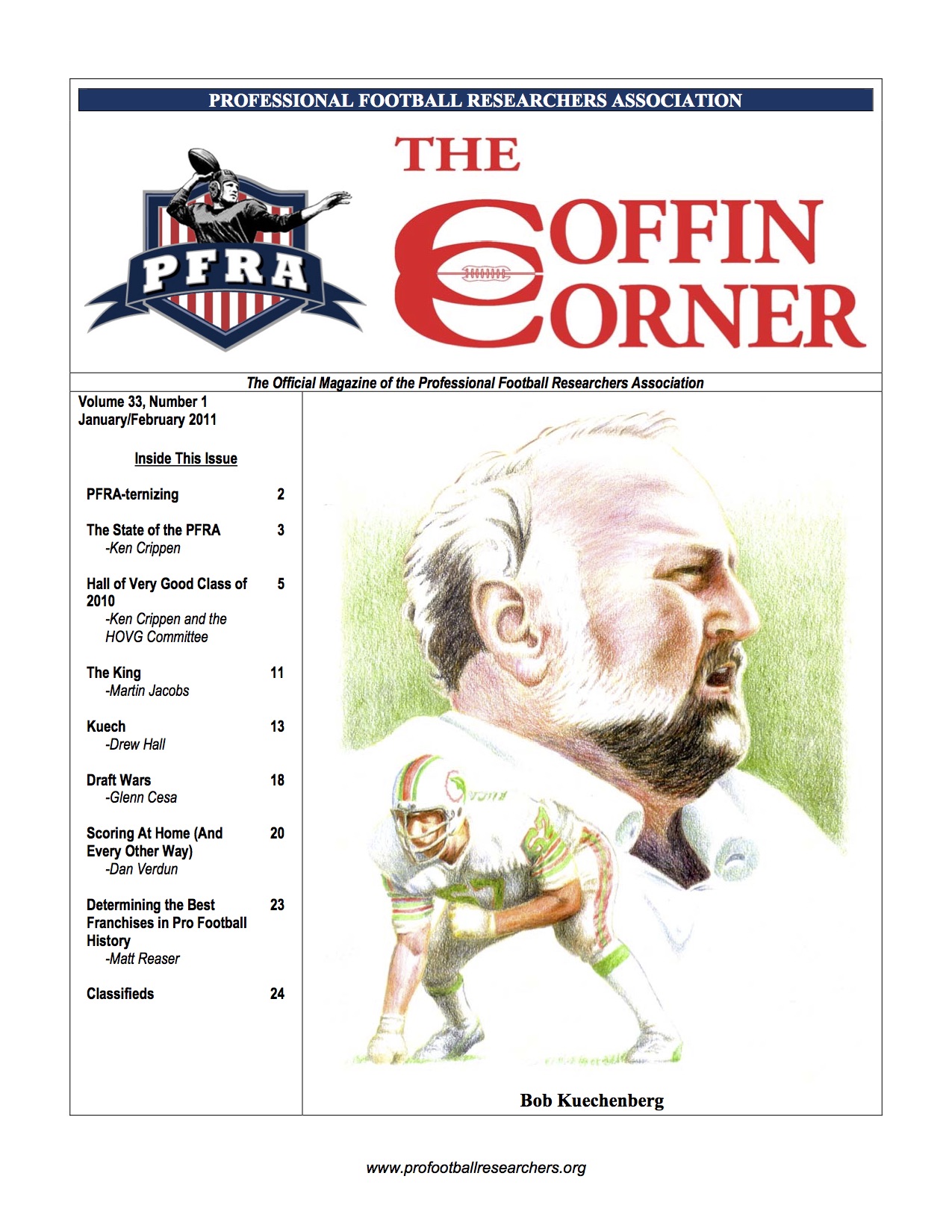 The State of the PFRA by Ken Crippen. A discussion of the PFRA, where it stands and its future.
Hall of Very Good by Ken Crippen and the Hall of Very Good Committee. Biographies of the ten members of the Class of 2010.
The King by Martin Jacobs. A personal retrospective of San Francisco 49er great Hugh McElhenney.
Kuech by Drew Hall. A biographical article on Miami Dolphins all-pro guard Bob Kuechenberg.
Draft Wars: The Fight for Players Between the AFL and NFL by Glenn Cesa. A look at the battle for the top college players between the warring leagues.
Scoring at Home (And Every Other Way) by Dan Verdun. Five players have scored touchdowns by rushing, passing, receiving, returning punts and returning kicks.
Determining the Best Franchises in Pro Football History by Matt Reaser. A ranking of the best franchises in pro football history using criteria determined by the author.
Number 2: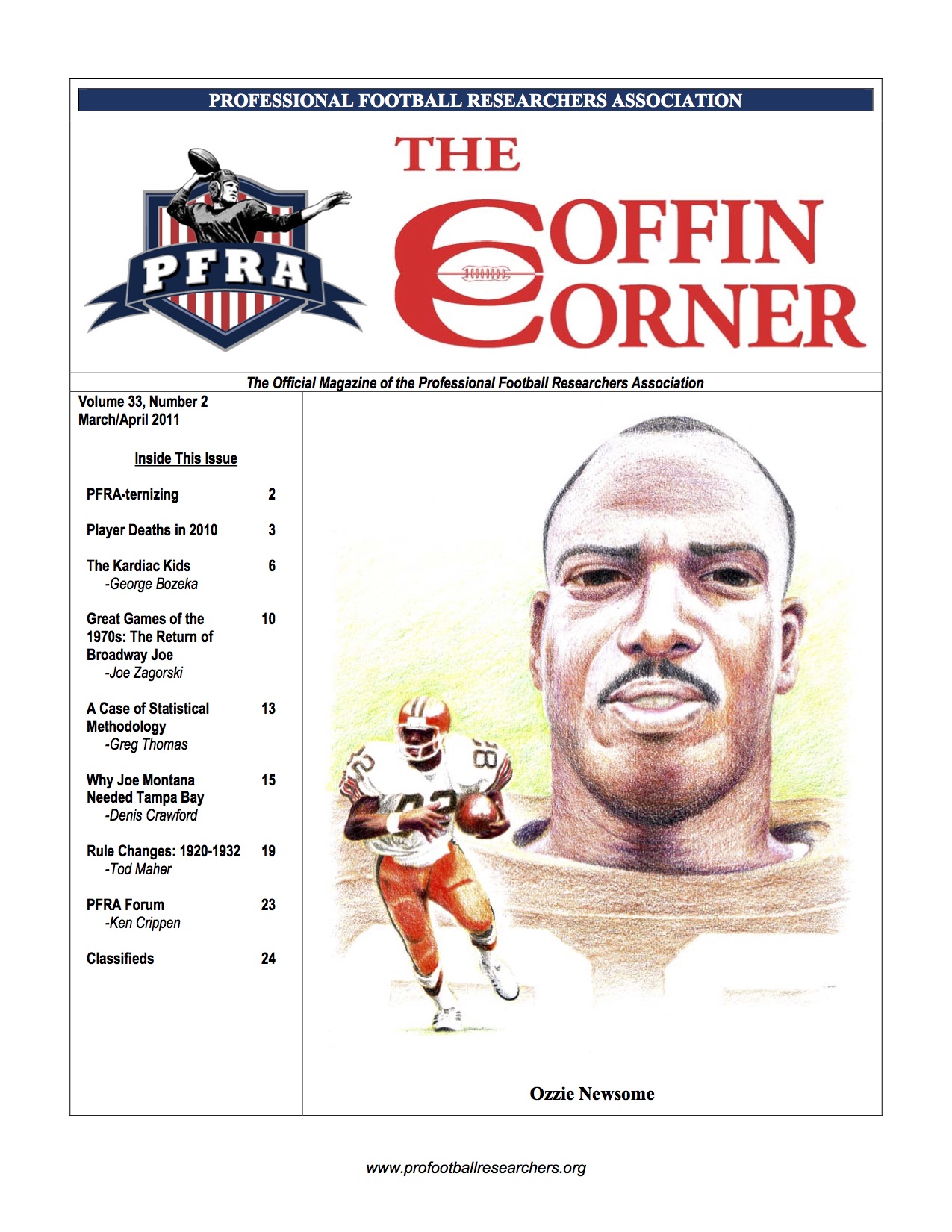 2010 Player Deaths. A listing of all players that passed away in 2010.
The Kardiac Kids by George Bozeka. A detailed account of the 1980 Cleveland Browns.
Great Games of the 1970s: The Return of Broadway Joe by Joe Zagorski. An account of the November 28, 1971 game between the San Francisco 49ers and the New York Jets.
A Case of Statistical Methodology by Greg Thomas. A look at scrambling quarterbacks and how their rushing statistics are calculated, or mis-calculated.
Why Joe Montana Needed Tampa Bay by Denis Crawford. A look at Joe Montana's milestone games against the Tampa Bay Buccaneers.
Rule Changes: 1920-1932 by Tod Maher. A listing of the rule changes from 1920 through 1932.
Number 3: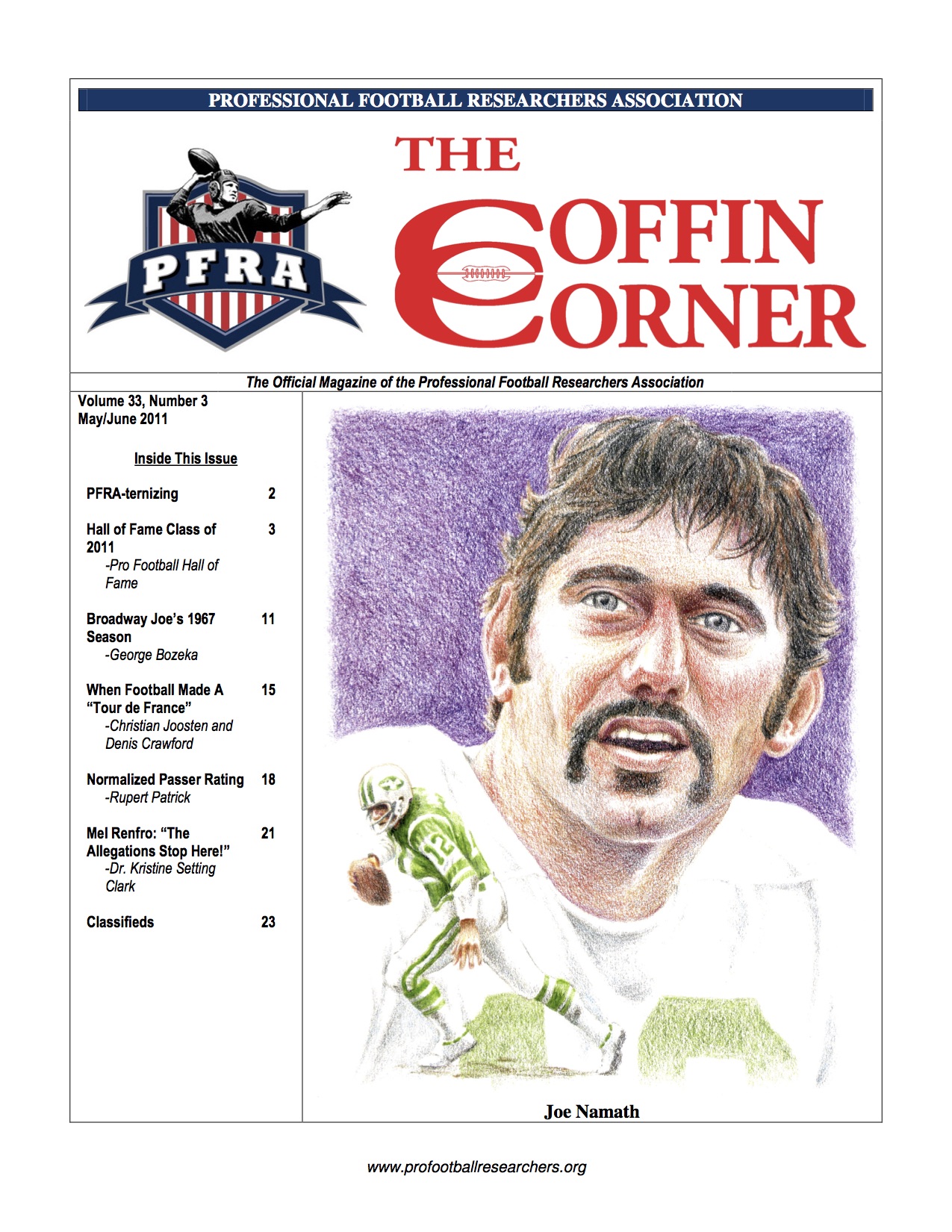 Hall of Fame Class of 2011 by Pro Football Hall of Fame. Biographies of the Pro Football Hall of Fame Class of 2011.
Broadway Joe's 1967 Season by George Bozeka. A recap of the 1967 New York Jets' season.
Football Tour de France by Christian Joosten and Denis Crawford. The story of American football games played in France in December 1938.
Normalized Passer Rating by Rupert Patrick. The author's attempt to normalize the passer ratings of quarterbacks across eras.
"
Mel Renfro: "The Allegations Stop Here!" by Dr. Kristine Setting Clark. Mel Renfro has been blamed for the Dallas Cowboys' loss in Super Bowl V. Here, Renfro tries to set the record straight.
Number 4: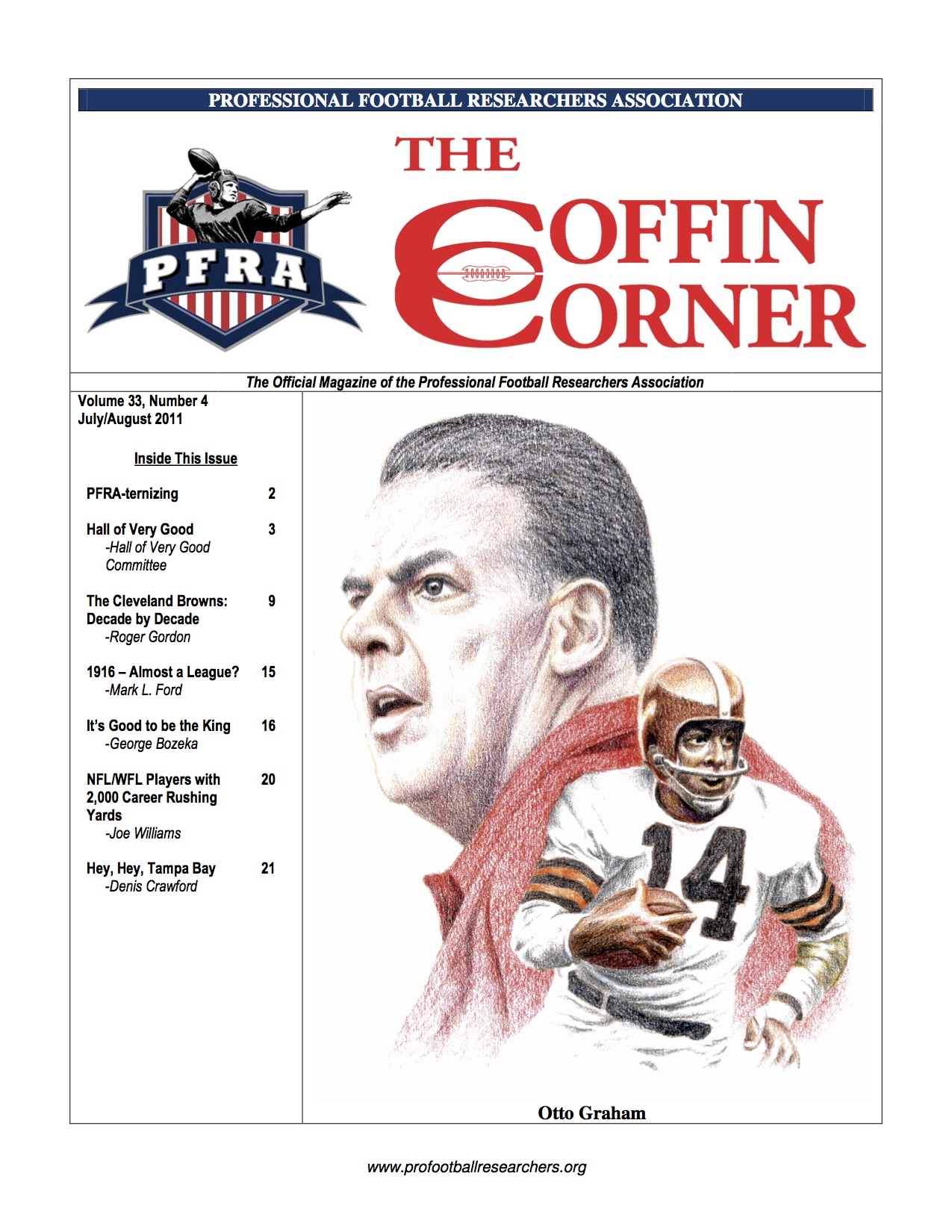 Hall of Very Good by Hall of Very Good Committee. Biographies of the finalists for the Hall of Very Good Class of 2011.
The Cleveland Browns: Decade by Decade by Roger Gordon. A brief history of the Cleveland Browns from their beginning in 1946 through the end of the 2009 season.
1916: Almost a League? by Mark L. Ford. Some evidence of an attempt at a league in Ohio for the 1916 season.
It's Good to be the King by George Bozeka. A biographical article on James Sean Patrick "King" Corcoran.
NFL/WFL Players with 2,000 Career Rushing Yards by Joe Williams. A list of WFL rushers who have had at least 2,000 yards in their career between the NFL and WFL.
Hey, Hey, Tampa Bay by Denis Crawford. The story of the creation of the Buccaneers' song "Hey, Hey Tampa Bay the Bucs Know How to Shine!"
Number 5: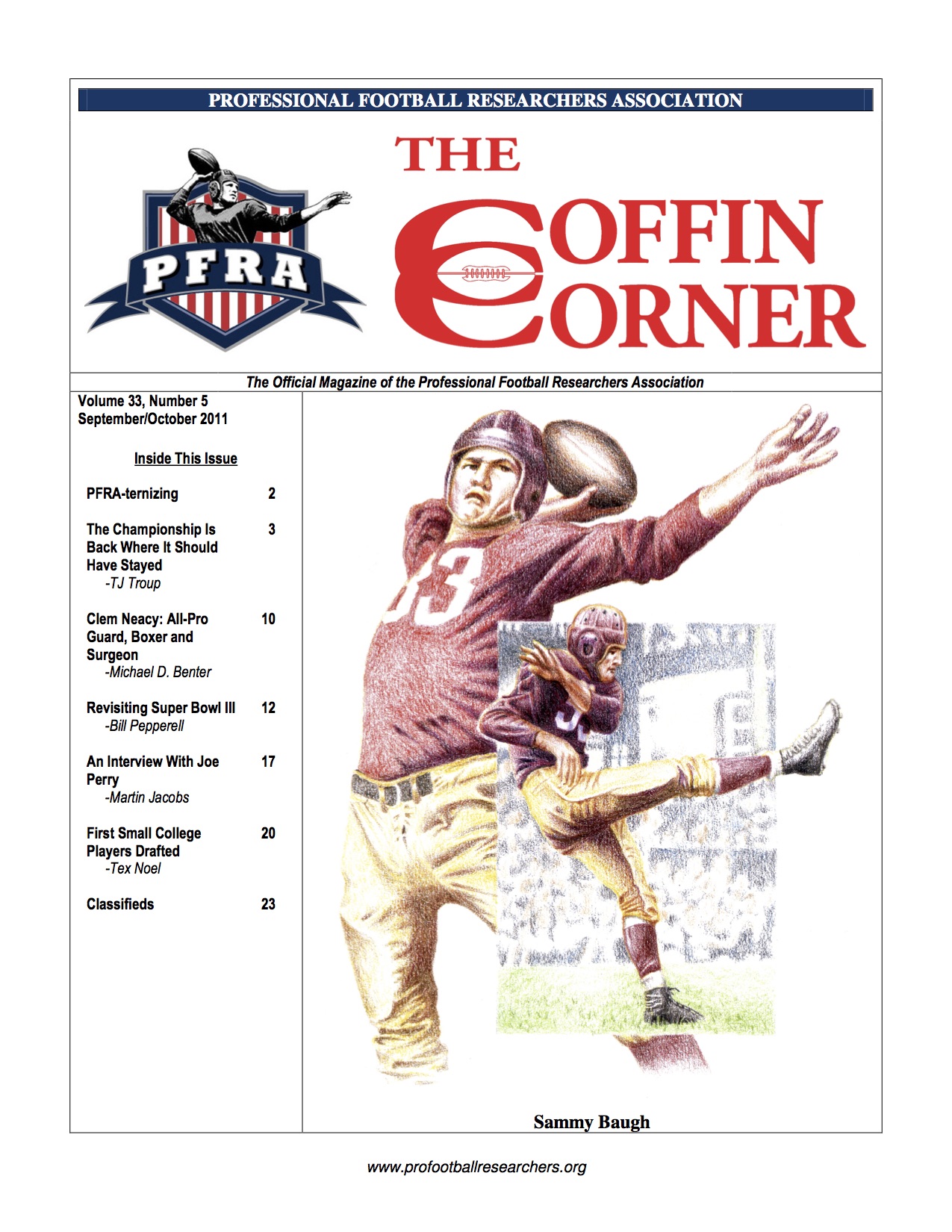 The Championship Is Back Where It Should Have Stayed by TJ Troup. A recap of the 1943 NFL season and the Chicago Bears' run for a third championship in four years.
Clem Neacy: All-Pro Guard, Boxer and Surgeon by Michael D. Benter. A biography of Milwaukee Badgers end Clem Neacy. He also spent time with the Chicago Bears, Duluth Eskimos and Chicago Cardinals.
Revisiting Super Bowl III by Bill Pepperell. The author's examination of New York Jets' safety Jim Hudson's quote on Weeb Ewbank's preparation for Super Bowl III.
An Interview With Joe Perry by Martin Jacobs. An interview with San Francisco 49ers Hall of Fame fullback Joe Perry.
First Small College Players Drafted by Tex Noel. A listing of the first small college player drafted each year, including the AFL.
Number 6: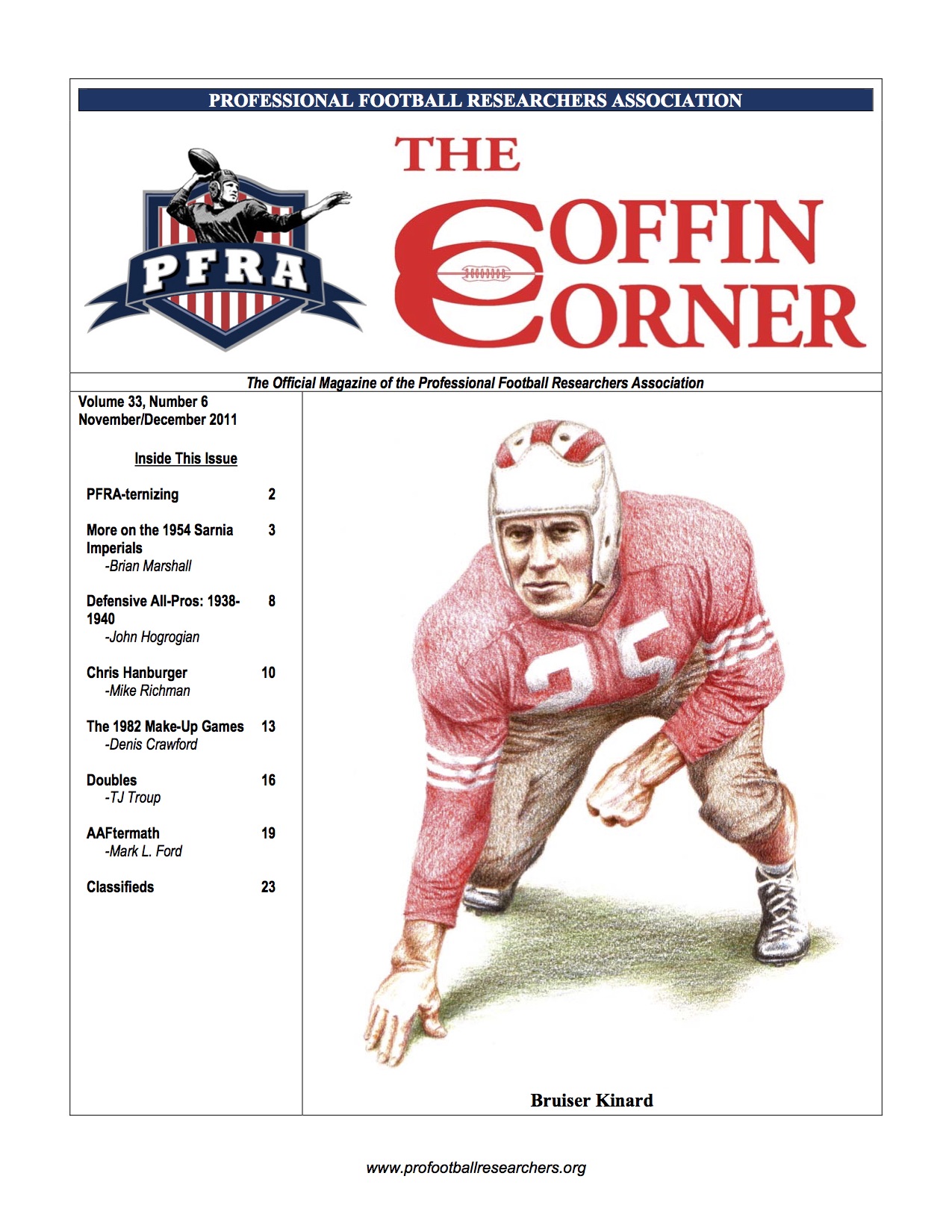 1954 Sarnia Imperials by Brian Marshall. A continuation of the author's article detailing the 1954 season of the Sarnia Imperials. Lineups and scoring are included.
Defensive All-Pros: 1938-1940 by John Hogrogian. A detailed look at defensive all-pros from 1938 through 1940.
Chris Hanburger by Mike Richman. A biographical article on one of the Pro Football Hall of Fame's most recent inductees.
The 1982 Make-Up Games by Denis Crawford. A look at how the league rescheduled games after the 57-day work stoppage.
Doubles by TJ Troup. A chronological list of all players who have caught a touchdown pass and intercepted a pass in the same game.
AAFtermath by Mark L. Ford. A look at how players dispersed when the All-America Football Conference merged into the National Football League.