Dates: July 8-10, 2016
Location: Green Bay, Wisconsin. Lambeau Field (4th Floor Indoor Clubs - Formerly Club 1919)
Member Cost: $50.00
Non-Member Cost: $100.00

Cost Includes:
1) Access to two days of meetings at Lambeau Field
2) 90-Minute Champions Tour
3) Tour of the Green Bay Packers Hall of Fame
4) Packers Souvenir
5) Catered Meals Friday (snack) and Saturday (lunch)
Hotel:
Official PFRA Hotel
Country Inn & Suites (Green Bay East)
850 Kepler Drive
Green Bay, WI 54311
Phone: (920) 288-0101 or (800) 456-4000
We have a block of rooms for July 7-10.
Cut-off date for rooms is June 14.

Special Rate for Hotel:
$89.00 per night (two-person queen standard room). Third and fourth adults are $10 extra per person and children under 18 stay free.
Upgrades for suites, and family or sunroom suites at $109.00 and $129.00 per night respectively.
This rate ($89.00 per night) includes a complimentary shuttle to Lambeau Field and complimentary hot breakfast.
Hotel is eight miles from Lambeau Field.
Call hotel and ask for PFRA rate for those days.
Add-On Tour for Sunday:
The Packers Heritage Trail Trolley Tour.
The cost of the tour is $20 and is a round trip tour boarding at our host hotel- The Country Inn & Suites- at 9:45am and returning at approximately 12:15pm.
For more information: Packers Heritage Trail
Itinerary for the 2016 PFRA Meeting
Guest Speakers (more to be announced later):

Zeke Bratkowski
Packers backup quarterback extraordinaire from 1963-1971.
Zeke also spent time with the Bears and Rams and is a member of the Packers HOF.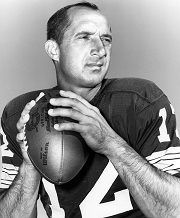 Bob Long
1964-1967 Packers Wide Receiver
Member of 1966 Packers Super Bowl I Team
Played for Vince Lombardi with Packers and Redskins (1969)


Cliff Christl
Green Bay Packers Official Historian
Retired award winning sportswriter with the Green Bay Press-Gazette, Milwaukee Journal and Milwaukee Journal-Sentinel, and PFRA Member
Mr. Christl will make a presentation about the early history of the Packers (1919-1968)



Chuck Lane
13 Years Packers P.R. Director
Member of 1966 Packers, Publicity Director
Worked under coaches Vince Lombardi, Phil Bengston, Dan Devine and Bart Starr


Bud Lea (Health Permitting)
Sportswriter/Columnist Milwaukee Sentinel, 1954-1995
Covered all 5 Packers Championship Team in the 1960ís
Covered 30 of the first 31 Super Bowls


Matt Foss
PFRA Member
Mr. Foss will make a presentation on the photography of longtime Packers photographer Vernon Biever.

John Maxymuk
PFRA Member
Mr. Maxymuk will make a presentation on "How the 1966 Packers Were Built."

Rick Schabowski
PFRA Member
Mr. Schabowski will make a presentation on the Milwaukee Badgers and other early NFL teams from the Wisconsin area

Massimo Foglio
PFRA Member
Mr. Foglio will make a presentation on his recent book "Touchdown In Europe."

Tom Pigeon
Green Bay Packers Super Collector
Mr. Pigeon will make a presentation on his collection of Green Bay Packers memorabilia.